This post may contain affiliate links. For more information, please read the full disclosure policy here.
Here are the top five things to do with only one day in Ottawa.                                     
O Canada, how I miss thee. I miss your accent, your cities, your snowy mountains and your craft beers. One city, in particular, I only caught a glimpse of last year was Ottawa, the capital. I had just a day spare to see the sights before meeting friends in Montreal. Ottawa was my kind of city: just the right size with beautiful architecture, interesting neighbourhoods and fun activities. Here is a look at the five things I got up to whilst in Ottawa in 24 hours – a sample itinerary for your own one day in Ottawa.
5 things to do with one day in Ottawa
1. Relax on the Rideau Canal
One of the city's famous landmarks, the Rideau Canal, stretches 22 kilometres through Ottawa. The World Heritage Site is a popular place to run beside, kayak on and cruise along in the summer months. It also happens to be the best spot in the city to skate on come winter. When it does freeze over, the canal's ice skating rink is 7.8 km long, only 200 metres less than Canada's biggest in Winnipeg. Unfortunately, they can't beat them as the rink starts and finishes at the canal locks. You win this time, Winnipeg!
I was there on a perfectly sunny fall day. One of those days just made for stepping outside and feeling the warmth of the tender sun on your skin. I decided to splurge and go for a cruise with Paul's Boat Lines, which costs $22, includes a tour guide and goes for approximately 75 minutes. I am glad I decided to do the tour. With only one day in Ottawa, I was able to see so much more of the city then I would have just walked.
We cruised passed the former Embassy Row, the University of Ottawa, the sports arena and more beautiful buildings with undeniably the best views in town. I waved to the kayaking double, and now feel nostalgic for that Canadian friendliness. I sat beside a couple from Calgary and I spoke to them about the recent snowstorm – so not cool. It was a pleasure seeing a Canadian duo enjoy the view as much as me. They said they had visited a few times before but this was their first time cruising and they absolutely loved it.
2. Visit Parliament Hill
It is hard not to visit the Parliament buildings in downtown Ottawa. What grand masterpieces, both inside and outside. When I went to the welcome centre at the House of Commons (there are signs pointing you down to the entrance) it was about 3 pm in the afternoon and there happened to be a session in progress between local members. After two security checks, I got to go and sit it on the Canadian Parliament. I am a total nerd when it comes to these things so I was stoked.
There are 'phones' in the gallery so you can clearly hear what is being said below. I thought it was ironic that the session discussed childcare and minimum wage. The latter being a topic I have discussed a lot since I arrived in Vancouver. FYI it is roughly $10 and some cents in Canada's territories and provinces. Australia's meanwhile is currently $16.87. So when people say Australia is expensive, we can handle it because this is the minimum we can be paid.
Anyway, back to the topic at hand. It's also worthwhile checking out the amazing interior. The gold accents on the balcony and the stained glass windows = woh.
3. Shop and dine in ByWard Market Square
The ByWard Market building and its surrounding square are where you need to go for breakfast, lunch, dinner, snacks and souvenir shopping. So basically it has everything. There are some delectable-looking bagels on display at the market, fresh produce in the stalls outside and cosy pubs on the corner. When you enter the building, look up at the fascinatingly weird artwork/mobile thing hanging from the ceiling. I walked upstairs to get a closer look. Isn't it bizarre?
A very short stroll away from the square you have Dalhousie Street in one direction and the Rideau Centre in the other. Dalhousie Street is for the shopper's with the city's best boutiques (out of my price range/I didn't have enough time for a good bargain search). The Rideau Centre is Ottawa's main shopping centre with the usual chain store brands. There is also a food court if you are looking for something fast but I would go more local and visit the market.
4. Stay in jail with only one day in Ottawa
This is definitely one of the coolest places I have stayed in my travels. The jail was shut down in the 70s because of its inhumane conditions. They then spruced it up just a tad and transformed the building into the HI Hostel it is today. It is centrally located near ByWard Market Square. You can also stay in single cells (too small for me) and cells created into dorm rooms, which was more to my liking. As I only had one day in Ottawa, I only had one night too. The jail does free tours every morning at 11 am, which are a must to learn all about it. I must admit I was slightly creeped out going to sleep that night. But it was an unforgettable experience I hope never to repeat!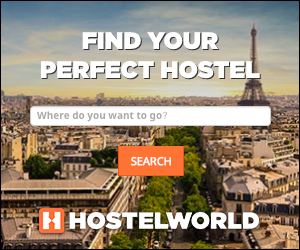 Here are my top hostelling tips for fellow solo travellers
5. Be in awe of the Chateau Laurier
I love the Fairmont Chateau hotels spread from Canada's west to east coast. The castles as I like to call them are really in a class of their own and Chateau Laurier is no exception. Sitting across the Rideau Canal from Parliament Hill, the massive building spires stretch into the blue sky and I can imagine the views some fortunate folk have of the canal and across to the Parliament Buildings. Stunning.
Now, we are a budget blog so we will probably never be able to afford to stay in one of these hotels. Unless I marry a real rich man (we can all dream). But you can still pretend by having a peek inside. Just don't get caught drooling over the ornateness.
To finish my one day in Ottawa…
I don't think a visit to Ottawa is complete without paying your respects at the National War Memorial and seeing the Guard of Honour (two soldiers) watching over the Tomb of the Unknown Soldier. There are also information boards across the road explaining the events. It's well taken care of with beautiful flower beds that surround the memorial.
As I finished my one day in Ottawa I collected my bags from the hostel and ventured to the bus terminal for my two hour trip to Montreal. I would enjoy going back to explore the city further and venture over to the Quebec side. Did you know that Ottawa is in two provinces: Ontario and Quebec? I didn't and it totally perplexed me. Some people were speaking French in conversations and others in English. I couldn't keep up. But hey, it must work because Canada is a damn good country and I am so thankful I got to live there.
Visit my Resources page for all of my favourite travel planning websites. But don't forget to organise travel insurance before your trip.
Follow along: Facebook | Twitter | Bloglovin' | Instagram | Pinterest
World Nomads provides travel insurance for travellers in over 100 countries. As an affiliate, we receive a fee when you get a quote from World Nomads using this link. We do not represent World Nomads. This is information only and not a recommendation to buy travel insurance.