This post may contain affiliate links. For more information, please read the full disclosure policy here.
Apprehensive about going to Las Vegas alone? Don't be! I'm here to tell you that visiting Las Vegas solo is both fun

and

worthwhile.
Las Vegas was always on my list of places I needed to visit in the United States during my solo USA trip. Yet I was apprehensive about being in Las Vegas alone. There was just something about Sin City that made me think I needed to be there with someone to fully appreciate it – more than anywhere else on my trip. Although this is true in ways, it also doesn't mean you ignore Vegas because you are travelling solo. Hell to the no! Here is how you can still get a lot out of Vegas with just yourself as company. Trust me.
Here's my entire itinerary for travelling around North America solo, as well as the 11 other cities I recommend visiting solo in the United States.
How to do Las Vegas solo
1. Do a tour in Las Vegas
Although I was only in Las Vegas for three nights, I wanted to spend one of those days at the Grand Canyon. I just didn't know when I would get the opportunity again. It was a long day – about 15 hours from pickup to drop off – and I absolutely loved it. I visited the National Park through Grand Canyon Tour Company, which had the best prices on the internet. It was about $88 for the South Rim Tour, which includes an amazing buffet lunch and movies to make the journey to and fro go quicker. Find other deals through Viator here.
I also wanted to see Vegas at night but I was a little worried about wandering alone on the streets. Kudos goes to my mum who discovered Big Bus Tours Las Vegas
 does a night tour. It takes you all along the strip and then down to Fremont Street where you actually spend an hour walking around. Think half-naked people on the stages and not, and Bon Jovi serenading me from the screens on the roof (seriously). There were also people using the new zip line directly above.
This was perfect for me as I got to see the bright lights and the buzz for myself from the comfort of a double-decker bus. Please note though that I was there at Halloween and it was cold on the top of the bus, so bring a warm layer! The guide (who was cute AND funny may I add) was also super informative. He told us lots of inside secrets about the different casinos and hotels. I would recommend doing this tour on your first night so you can make use of the goodness he passes on.
Check out my comprehensive guide to the 20+ best Las Vegas tours, which include food tours, walking tours and day trips to Los Angeles.
Go big and buffet in Las Vegas
So this was definitely one of the best decisions of my life – doing a buffet in Las Vegas. By this point in my trip I had kind of gotten used to eating alone, so that didn't worry me. I visited the Stratosphere, which at $23 for a champagne brunch on the weekend that went until 4 pm, was the best place for me. I didn't arrive until after 1 pm and I had noticed from an earlier web search that a lot of other buffets seemed to close at 2pm. This didn't work for me and my grumbling stomach.
This meal was basically my breakfast, lunch and dinner, which I was totally a-okay with. There was so much choice I didn't know where to begin. So I did my devouring in stages. There was fish first, then a trip to Mexico with nachos and a hop over to Asia for pad thai and noodles. I finished with a stop at fresh fruit before the perfect chocolate ending. Seeing as it was a champagne brunch I just had to enjoy a mimosa too. When in Vegas (solo)!
A daytime stroll around Las Vegas
After my rampage at Stratosphere, I got on the local Deuce bus and headed to the Strip. For $8 you get a 24-hour pass on the bus, which is value for money if you are staying off the strip in Downtown Las Vegas like myself. I got off the bus at the Fashion Show Mall. I had a peek inside before walking across the overhead walkway to Wynns. Oh, how I enjoyed wandering through those lavish lobbies and shopping areas. Luckily, I didn't look too out of place as there were other travellers dressed as casual as me. Note to self: check out the schmancy toilets #justsaying.
My next stop was seeing the Grand Canal inside The Venetian, which was amazing. I didn't realise the inside is so ornately painted. I even lucked out and seemed to get there when the gondola rowers were performing a singalong. From the outside, it was a flashback to my visit to Venice a few years ago, except for the traffic noise.
I continued down the strip, stopping to look in stores and take in the chaos surrounding me. There were so many people and it was a Sunday afternoon. It's times like that when you get drifted down the street with the crowd that you don't feel alone. Marvel at some of the most beautiful buildings in Nevada and take too many selfies with hotels you've seen splashed across the TV too many times.
Beer makes everything better
Okay, this may or may not be true, but a little bit of beer does help sometimes. I loved being able to grab a $3 beer on the street. I also enjoyed taking said beer on my night tour, because VEGAS. Remember that when you do visit Vegas' many casinos, drinks are free whilst you are gambling. Just remember to tip the servers or they may not come back to serve you. A dollar bill makes everyone happy.
Stay in a hostel in Las Vegas
I know that you can get amazing last minute hotel deals in Vegas, but I was on a budget. So when you are cheap and doing Las Vegas alone, you go to a hostel. Hostel Cat had the best reviews online and seemed to be in a prime position just off the strip. I booked into a 6-bed female dorm with its own bathroom.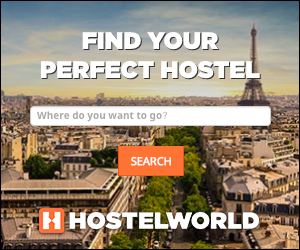 The staff here were very friendly and the room was comfortable. They also host a different social activity every night – from clubs to karaoke to Fremont Street and more. Plus, there are cheap dinners ($6) some evenings too. Because I was out a lot of the time I didn't partake in any activities, but it was nice to know they were an option. There's also a bus stop very close by for those solo late nights out.
The verdict on doing Las Vegas alone
I'm glad I visited Las Vegas alone, even though I was on a solo holiday. Yes, it would probably be more fun and totally different if you were there with a significant other or a bunch of girls/boys for the weekend. But I still enjoyed Las Vegas alone. I stuffed my face, wandered the streets, bought souvenirs, visited the Grand Canyon AND took some awesome night photos. Don't let the fear of solo travel stop you from going to amazing places and seeing amazing things.
For more information on how I plan my travels, visit my Resources page. I also recommend
always

purchasing travel insurance.

Follow along: Facebook | Twitter | Bloglovin' | Instagram | Pinterest
You may also like…
♥ My very comprehensive guide on Las Vegas tours, my Maui solo travel guide, my entire North America solo travel itinerary and other cities I recommend visiting alone in the US.
World Nomads provides travel insurance for travellers in over 100 countries. As an affiliate, we receive a fee when you get a quote from World Nomads using this link. We do not represent World Nomads. This is information only and not a recommendation to buy travel insurance.